Engineering Lifecycle Management for Medical Devices

Develop medical devices with high quality by leveraging reuse concepts, collaboration, traceability, and full compliance to medical standards
Develop devices by leveraging the best in the market solution from IBM for:
Requirements Management
Risk Management, FMEAs, Mitigation
Design - Model-Based System and Software Engineering & Simulation
Planning Execution and Software Development
Verification, Validation, and Test Automation
Get easily compliant with Methods and Compliance to Medical Standards like
IEC 62304 development of software for medical devices
Medical Device Directive MDD, Directive 93/42/EEC dated 14 June 1993
Medical Device Regulations (MDR)
Medical Product Gesetz (MPG)
In-vitro Diagnostic Device Regulations (IVDR)
Medical Product Regulations (MPV)
ISO standard 13485 Quality management for medical products
FDA regulations like 21 CFR Part 820 Part 11
Equipment and Product Safety Act
The solutions below are enhanced with IBM certified Business Partner Softacus enhancements
Ensure core processes such as quality insurance, risk management, and post-market expectations have been updated in order to comply with the new requirements.
Systems & SW Engineering in Medical Industry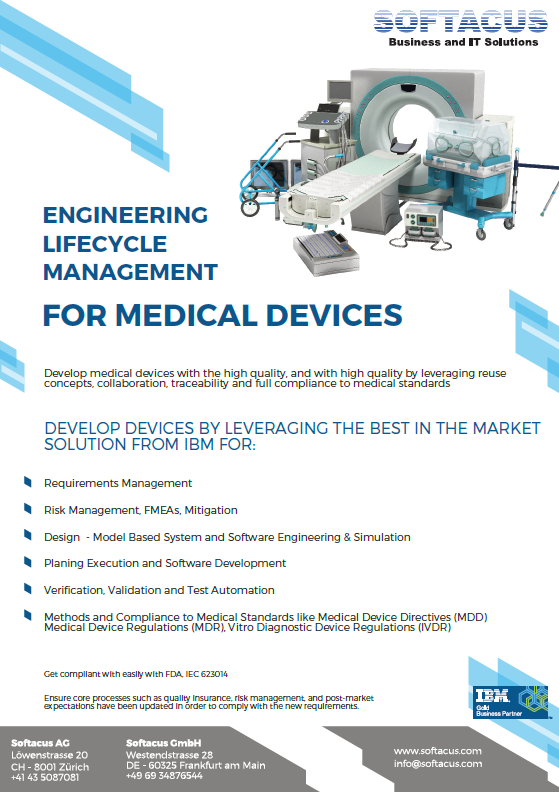 Overview of the solution for medical devices and its value add for development teams. Softacus Flyer
Engineering Lifecycle Management for Medical Devices
Reuse of requirements and tests
Development lifecycle traceability
Automation of Compliance and Documentation
Traditional & agile practices & methods
IBM Engineering for Medical Devices consists of a set of process assets (modifiable by the customer using Rational Method Composer), which include workflows deployable in Rational Team Concert. It also includes a DOORS project template for medical devices, which contains pre-defined DOORS modules that users can instantiate to deploy DOORS more quickly in projects required to comply with FDA QSR and IEC 62304. The DOORS modules contain a set of defined attributes for the various stages of development in the safety lifecycle, including specification, design, implementation, integration, verification, validation, and production release. A version of this template is also available for DOORS Next Generation.
Optimize the way things are done
And imagine and implement completely new ways of working
IoT is about the connectedness of things
Everything is invariably connecting to everything else!
Allows us to link data and actions
Across previously disparate and discrete activities
That the IoT will generate will be in B2B settings
Industry leaders are among our
3,000+



clients for IBM Engineering Lifecycle Management solutions
Aerospace & Defense Companies use Rational
Automotive Manufacturers use Rational
Smart Phone Manufacturers use Rational
Medical Device Manufacturers use Rational
Pharmaceutical Companies use Rational
Semiconductor Companies use Rational
Broad Market Usage of the IBM Solution
Largest 2016 Defense OEMs
Largest 2016 Automotive OEMs
Largest Automotive Tier-1 suppliers
Government agencies in over 54 countries
IBM ALM Benefits for Medical Devices customers
Reduce time to innovation
Reduce time to market with strategic reuse-leveraging variants. Model systems and software early in the process, reducing more expensive rework late in process. Share data across distributed teams.
Improve Quality
Boost transparency and traceability across the development process. Manage requirement hierarchies and better understand how changes can cascade and impact the entire system under development.
Embrace Agility
Boost development team productivity by adopting agility at scale, such as using SAFe or your own processes. Use dashboards to see current work status, ownership and trace requirements.
Collaborate seamlessly
Facilitate team collaboration, manage code, run standups, plan sprints and track work to reduce rework. Get essential software version control, workspace management and parallel development support.
As devices become more complex and connected, IBM helps you to develop on time, to budget, and safely every time
As regulations increase complexity and add more risks to a project timeline, IBM helps you to comply with regulations like IEC 62304, FDA Design Controls (21 CFR P. 820.30), FDA electronic records & signatures (21 CFR P. 11).
As new business models emerge from acquisitions and merges, or from new technology trends like IoT, blockchain, 3D-Printing, etc, IBM helps you implement innovative ideas, new functionalities integrally via managing changes and digital transformations into your products and services.
As patient-centricity drives customizations, and eventually evolves into variations and versions of products, IBM helps you effectively manage versions and variants in your projects. … Just like we support many other companies from other complex industries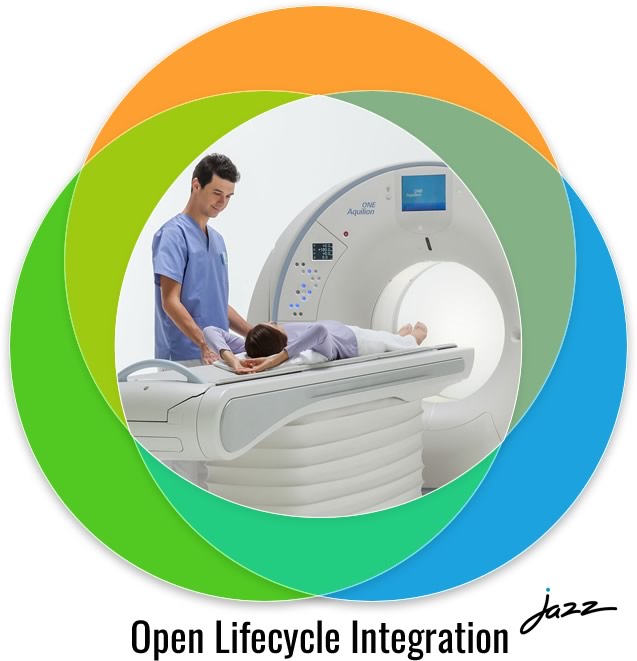 A well defined process needs to be supported by the appropriate tools. IBM Engineering offers an integrated requirements definition and management solution that helps you create requirements that are the cornerstone of successful product delivery.
IBM's solutions can help enable processing 3,000 requirements per day with two people, compared with 1,000 requirements per day with five people. Additionally our solutions package supports meeting FDA Design Controls, IEC 62304 compliance and other regulatory requirements
Doors Product Family helps you to
Capture and document stakeholder & market needs,
Inspect coverage and consistency of requirements and requirement changes across the system and lifecycle
Collaborate and agree on requirements across stakeholders and suppliers
Assess impact of requirement changes across the system
Manage baselines, traceability and audit trails as required by regulatory compliance
Effectively manage product variants with requirements configuration management
Drastically remove the burden of compliance

with IBM Engineering Method Composer and Workflow Manager
The templates provide a quick and easy way to enforce project governance and help with project management.

Each work item also contains a link to the original description of the task.
Drastically remove the burden of compliance
What does it mean to understand the impact of change?
When we discussed model-based system engineering process with a leading customer from the aerospace and defense domain, we talked about "understanding the impact of change". In many cases, when we discuss impact analysis, the change flows "top-down". For example, if a user requirement changes, we now want to understand the impact on system requirements.
Is it more complicated than that in reality?
What challenges does this present to a systems engineer?
Why is it so difficult to understand impact of change?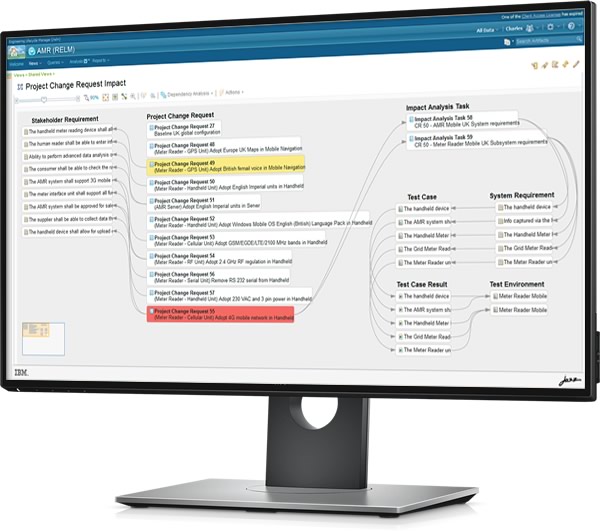 IBM Engineering for Medical Devices
To summarize what we have discussed today. Rational provides an integrated solution for teams developing medical devices to collaborate throughout the entire product development lifecycle. Starting early, product and portfolio management help to analyze and prioritize the various market requirements to help plan the right product to build.
You then are able to manage the requirements to ensure there is traceability to the design implementation providing an audit trail for regulatory auditors with reporting capabilities to help in the submission documents
Medical device development teams can visualize the requirements and implement them directly using a modeling-driven approach which strengthens the audit trail further by tracing architecture and design back to requirements. Because the implementation is generated from the model, consistency is maintained automatically between the implementation of the device software and the documentation of the device. The implementation and documentation are automatically synchronized. Furthermore, it promotes an iterative development approach that enables early validation of the design through execution and test early.
Change is inevitable, and the Rational solution integrates change management across the product development lifecycle to enable teams to collaborate to manage and respond to changes effectively.
The submission process to a regulatory agency is challenging and tedious. Information may be located in multiple sources. The Rational solution provides the ability to automate the generation of submission documents showing your requirements and design information to deliver consistent and complete documentation. And if a change occurs rapidly update the documentation that accurately reflects the design.
Finally, the solution creates a central repository for teams to manage quality and test assets that promote an early focus on identifying quality problems early and avoiding costly recalls.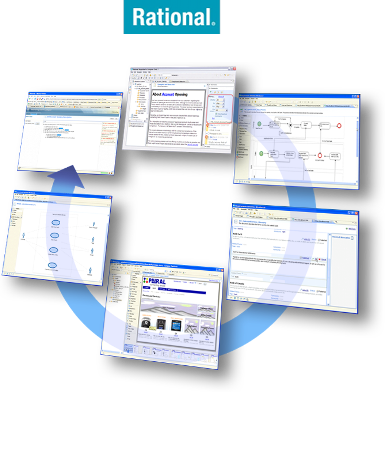 Increase speed of innovation
Japan
Sony Olympus Medical Solutions
This developer of medical imaging solutions in Japan eliminates rework during system development, accelerates product launches and enhances its competitiveness and profits when it renews and expands its IBM Rational software contract
Japan
Healthcare enterprise
A pharmaceuticals and healthcare products developer in Japan reduces rework and design misinterpretation, boosts development efficiency, and significantly accelerates time to market for new products software for optimized device development
U.S.
Mibio Medical and University of Memphis
The Memphis Institute for Biomedical Innovation & Healthcare Solutions (Mibio Medical) partners with the University of Memphis to accelerate medical-device innovations. The organizations use IBM tools to facilitate design and collaboration processes.
Spain
Grilfols Diagnostics
The complexity of the development cycle required tools that enhance team collaboration to deliver products faster. Grilfols reduced time to market by 20% by connecting all stages of the development cycle in a controlled environment.
U.S.
Philips Healthcare
Rich Newlon, Manager Technical Applications for Philips Healthcare, reported that IBM Engineering Workflow Management has helped to make the Philips' Cleveland site approximately 75% more efficient. The real time status view enables timely Management decisions.
Japan
Medical Center
The medical center suffered from inaccurate reporting due to manual reviews, which were time consuming and prone to errors. All records are now consolidated onto a single platform. Associated hospitals are now implementing the same solution, allowing staff relocation without learning new processes
Japan
Injection Systems Manufacturer
A developer and manufacturer of injection systems for self-medication decided to digitalize their development lifecycle for increased efficiency using a broad range of IBM Engineering Lifecycle Management capabilities to manage requirements, workflow, and testing. A decisive factor were the tool's capabilities for variant management.
UK
Covid Ventilator Challenge - Cambridge Consultants
DOORS Next was used in the project to design and build a fully functioning ventilator to meet the government's 'Ventilator Challenge' at the beginning of the pandemic. The company had to tackle design, development and testing processes that normally take 5-6 years within 5-6 weeks.
Switzerland
Ferring Pharmaceuticals
The complexity of the development cycle required tools that enhance team collaboration to deliver products faster. Grilfols reduced time to market by 20% by connecting all stages of the development cycle in a controlled environment.
Drive Innovation with IBM Engineering
Maximize collaboration throughout the development lifecycle both for internal teams and accros supply chain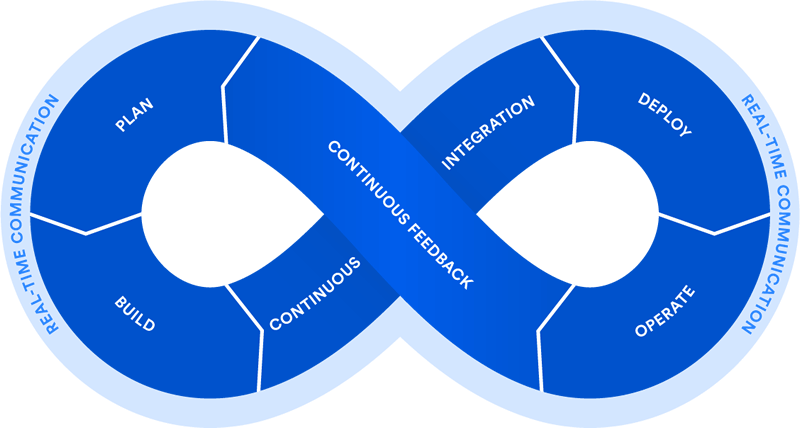 IBM Engineering platform removes barriers between teams, roles, subcontractors, and supply chain teams to utilize a fully integrated collaborated environment across extended teams.
Requirements Management for Medical Devices
IBM Rational software is tightly integrated into its Application Lifecycle Management capabilities. Therefore, it supports the product's requirements management process in a holistically integrated manner.
The Rational solutions for systems and software engineering can assist with reaching FDA compliance goals through integration, collaboration, automation, and reporting. The solutions support the creation and management of life-cycle work products necessary to fulfill FDA regulations and guidelines.
The solutions provide a core set of best-in-class tools and processes for systems and software engineering teams, facilitating engineering collaboration with an unprecedented high level of transparency of project progress, control of artifacts, traceability with audit trails, task management, and change control.
Lastly, the Rational solutions address the FDA identified lack of design controls as one of the major causes of device recalls by:

Maintaining design control specifications in a central, automated repository
● Providing design control specifications using customizable
document templates
● Facilitating the design control process models, attributes
and reports
● Maintaining up-to-date traceability matrices
● Facilitating change impact analysis and capturing
design history
● Managing compliance


Rational solutions can help address concerns related to product innovation such as improving time to market and achieving return on investments. and improve quality by managing requirements collection, control, communication, collaboration and verification.
Risk Management and Compliance Automation
Failure Mode and Effects Analysis (FMEA)
IEC 62304 Template for Medical Devices
FDA 21 CFR PART 820 For Medical Devices

The sections below describe specific features and ways how we can help you to achieve compliance.
If you need to understand how the platform works and if did not read the overall immediate benefits you can get, click on the button bellow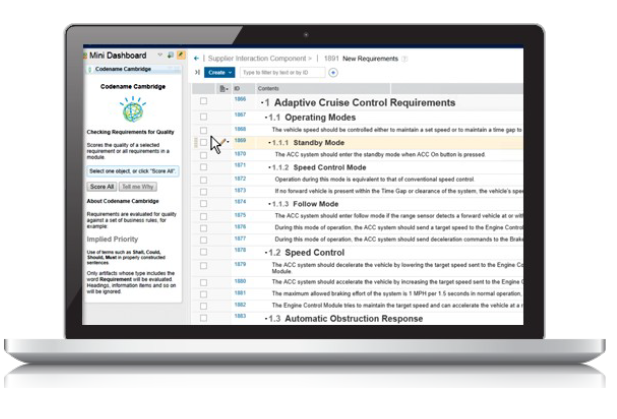 IBM Requirements Quality Assistant
Watson capability embedded inside DOORS Next Generation (DNG)
Removes risk and ambiguity in the requirements authoring phase out-of-the-box by using AI (Watson Natural Language Understanding)

Pre-trained to detect key quality indicators designed to be consistent with the INCOSE Guidelines for Writing Good Requirements

Authors receive coaching from Watson to improve the quality of the requirement as it is being written.

Failure Mode and Effects Analysis
IBM Rational software provides Failure Mode and Effects Analysis (FMEA) feature set. This enables the product development team to identify, define, and control the mitigation of risks, while ensuring traceability between requirements, failure modes, and test cases.
IBM provides out of the box FMEA extension for IBM Jazz Platform which is installed in /RM component. Extension enables users to:
Choose attributes like probability, severity, impact


Automated or manual calculation of risk priority number (RPN)


Linking of FMEA artifacts to affected requirements and to mitigation requirements


Out of the box Gap Analysis
With help of Softacus FMEA extension we are also able to:
Compare RPN before and after mitigation


Color-code RPN based on the value


Adjust the FMEA calculation to any of your needs


Provide it for free to our IBM Jazz customers
Hazard Analysis
Fault Tree Analysis (FTA)
A deductive (top-down) approach that links causal factors (e.g. faults, conditions, and events) together via logic operators to create hazards
Is recommended in requirements, systems analysis, and design phases
Traceable links among requirements, Traceable links among requirements, analysis, design, and safety elements makes your "safety case"
FTA elements can have traceable, navigable links to– Requirements– Elements that can manifest faults– Elements that can detect faults– Elements that handle faults
FTA elements contain metadata– Severity– Likelihood– MTBF– Risk– Safety Integrity Level
UML Fault Tree Analysis Profile
Fault Means, Effect, and Criticality Analysis (FMECA)
– An inductive (bottom-up) approach that relates component faults with hazards
– Cannot be applied until you have a parts list, which is late in the development process
Security Analysis Diagram
– UML Profile for modeling cybersecurity, threats, and countermeasures

Failure Mode and Effects Analysis
IBM Rational software provides Failure Mode and Effects Analysis (FMEA) feature set. This enables the product development team to identify, define, and control the mitigation of risks, while ensuring traceability between requirements, failure modes, and test cases.
IBM provides out of the box FMEA extension for IBM Jazz Platform which is installed in /RM component. Extension enables users to:
Choose attributes like probability, severity, impact


Automated or manual calculation of risk priority number (RPN)


Linking of FMEA artifacts to affected requirements and to mitigation requirements


Out of the box Gap Analysis
With help of Softacus FMEA extension we are also able to:
Compare RPN before and after mitigation


Color-code RPN based on the value


Adjust the FMEA calculation to any of your needs


Provide it for free to our IBM Jazz customers